ABOUT US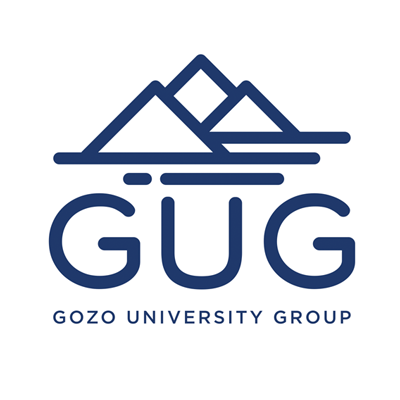 THE ORGANISATION
Making change easier – Tibdiliet maghmulin ehfef. This is the slogan adopted by the new executive of GUG whose main aim us to facilitate the lives of Gozitan students. This slogan reflects the changes in the Gozitan students' lifestyle, which can be challenging at times.
GUG (Gozo University Group) originated in the 1980s and was then officially recognised in 1987 as a student organization by the Senate of the University of Malta. Since its foundation, GUG has expanded to become more useful and flexible. It became the sole voice for Gozitan youths, students on campus and on a national level, doing its best to work for their interest and safeguard their rights. The Group tries to cater for the particular problems and needs which students may encounter.
It is affiliated to various committees and organizations including the Regional Projects Committee part of Ministry for Gozo, the KPS (Commission for Social Policy), the KNZ (Youth Council of Malta), Agenzija Zghazagh and the Gozo NGO Association. GUG is also striving to affiliate itself with other organizations on a European and global level.
The GUG can also be found on Facebook. There one finds information and news on the Organization and also upcoming events. The updated website also includes information on available apartments in Malta for rent, so as to facilitate the transition of Gozitan students. Additionally, in the website one finds adverts of second hand books or things for sale which can be useful to other students. For more information feel free to contact us on info@gug.org.mt.
This executive is trying hard to accomplish the projects set out in its agenda, to develop new ambitious projects and carry them out. Important values for this executive are impartiality and freedom of expression. Executive members come from different courses resulting in a team that has a wider view and diverse ideas. The Group, being a voice for Gozitan youths, promotes organizations and youths to plan for Gozo's future. So as to meet the demands of all Gozitan youths and students, GUG attends important meeting, fully participates in discussions and gives its opinion in relevant public consultations.
DIVISIONS
GUG requested that there should be an officer who directly addresses challenges which Gozitan students face in the Council of University Students (KSU). GUG, which represents around 900 University students (10% of all the students), believes that there should be more direct communication between the 2 organizations so problems are solved more efficiently. This was achieved through a proposal for the creation of the post of Gozitan Liaison Officer in the AGM of the KSU in March 2012.
The GUG created a number of sub-committees so as to expand its reach. Other subcommittees were created for MCAST and ITS students. GUG is not planning in stopping there; rather it has a number of ambitious plans for these sub-committees.
GUG organizes and participates in a variety of activities of special nature or annual ones. Every year, GUG organizes a number of seminars and meetings of introduction. These are held to help new students to become more integrated in their new life in University. The annual meeting of introduction is held in the Ministry of Gozo where useful information is given and other University Students share their experiences.
One of the activities in which GUG participates is the International Cuisine Night in which students from different countries exhibit traditional food in their country. The organization also participates in the Environmental Week – a week in which GUG promotes the Gozitan environment and nature and also comments in favour of its sustainability.
Recently GUG worked together with JP2 Youths and Agenzija Zghazagh to organize a conference at Citadel about "Voluntary work in the Region", in occasion of the European Year dedicated to Voluntary Work and the year dedicated to Youths of the United Nations. In this conference, 200 youths participated and a diversity of points was discussed. Some of these were; how it started, and what is the future of Voluntary Work in Gozo where many youths are given the opportunity to express their opinions on how to improve it. After all, voluntary work helps keep Gozitan society united.
It is worth mentioning that next year, the GUG will celebrate its 30th year from its establishment. To commemorate this event GUG is organizing an event to re-unite its past members.
GUG is the only student organization providing support to Gozitan students studying at the University of Malta.    Knowing that student life in Malta posed a financial burden on students, the Group worked hard to obtain extra student supplementary grants for Gozitan students.  Discussions were held with the authorities concerned in order to give the same amount to MCAST and ITS students studying in Malta as that given to University students. For the first time students studying in Malta, are being given the amount of €500 every three months including both the accommodation and transport subsidy.
GUG has always stressed and pushed for the need to invest more in the Gozo campus. A step forward was when Prof. Joe Friggieri was put in charge of the Gozo campus, as Pro-Rector. GUG also achieved the proposal for exams which was held in Gozo in May 2012, through months of hard work, pressure and discussions with the University Council.
For the May/June 2014 examinations the percentage of Gozitan students who have the opportunity to sit for their examinations in Gozo has reached 100%. We will continue working until all of the Gozitan students have this opportunity. Hard work truly pays off!
With regards to the assignments that need to be handed in during the exam period, Gozitan students are able to send a soft copy to the lecturer, once they have commuted to Malta, they can hand in the hard copy. This will make it easier for students who are sitting for their written exams in Gozo as they will not need to spend time travelling in order to hand in a hard copy of their assignment.
In the wake of public transport reform, GUG did its best for there to be a route from Cirkewwa to University and vice versa, which would operate in line with the Gozo Channel's schedule. It is worth mentioning that GUG pressured MITC, and it managed to acquire positive results. Another point is being worked on, that is to re-introduce a route similar to the previous route 450. Also contact has been made directly with Arriva management during a meeting organised with Parliament's Social Policy Committee.
Arriva Report – GUG sent a number of questions to its members on how they were affected by the service of the new Arriva's route X1. GUG repeatedly contacted the officials responsible, to ensure the best service possible. Nonetheless, the organization praises the change of the service's quality including the better buses and drivers' behaviour, among other things. The questions asked were divided in a way to include all the aspects of the service and also the opinion of the students. From the results, which were published, the GUG can recognize that essential changes still need to be done through direct talks as to continue to improve the service.
Every year, GUG organises Gozo Week at the University Quad. For a whole week, one could notice six stands which portrayed Gozitan life. The events during the week were aimed at promoting Gozo and Gozitan culture. GUG organised a number of talks and debates regarding the current topics which affect Gozitan students and youths. GUG believes in youths being the driving force for the improving future of Gozo and aims to make them more aware of their role in society and urges authorities to take the same approach. On showcase, were also some examples of Gozitan talent which kept the students entertained throughout the week.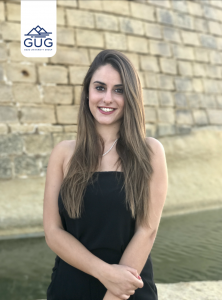 MARIA DIMECH
PRESIDENT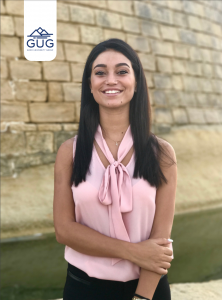 RACHEL GALEA
VICE PRESIDENT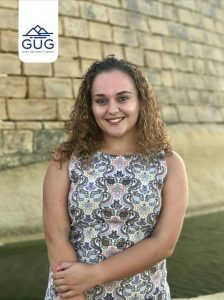 JESSICA MARIE SAID
ADMINISTRATION SECRETARY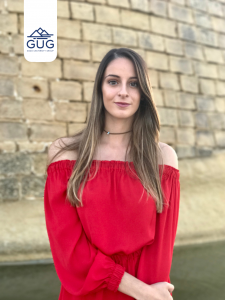 JASMINE BUTTIGIEG
INFORMATION SECRETARY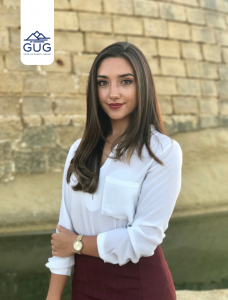 MARIA AZZOPARDI
FINANCIAL OFFICER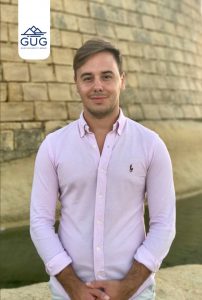 MALCOLM DIMECH
EVENTS OFFICER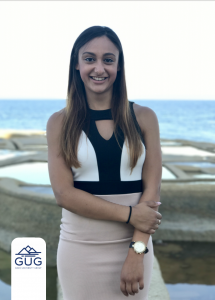 RENEE FORMOSA
INTERNATIONAL OFFICER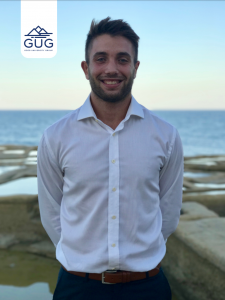 JOSEPH MIFSUD
EDUCATION OFFICER
MARK FARRUGIA
SOCIAL POLICY OFFICER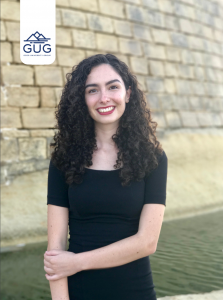 NICOLE DEBRINCAT
PUBLIC RELATIONS OFFICER
CHARLENE SCERRI
MARKETING OFFICER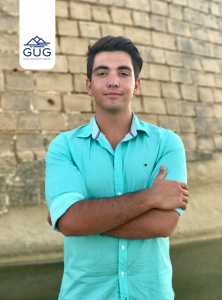 JOHN CLYDE GRIMA
SOCIAL MEDIA OFFICER
To represent all Gozitan students
Be a general and constant availability to the needs of all its Gozitan students
To represent its Gozitan students on a national and international level
To promote the improvement of academic standards and quality of life
To encourage the development of an environment for the advancement of Gozitan students
To organise events which would directly interest Gozitan students